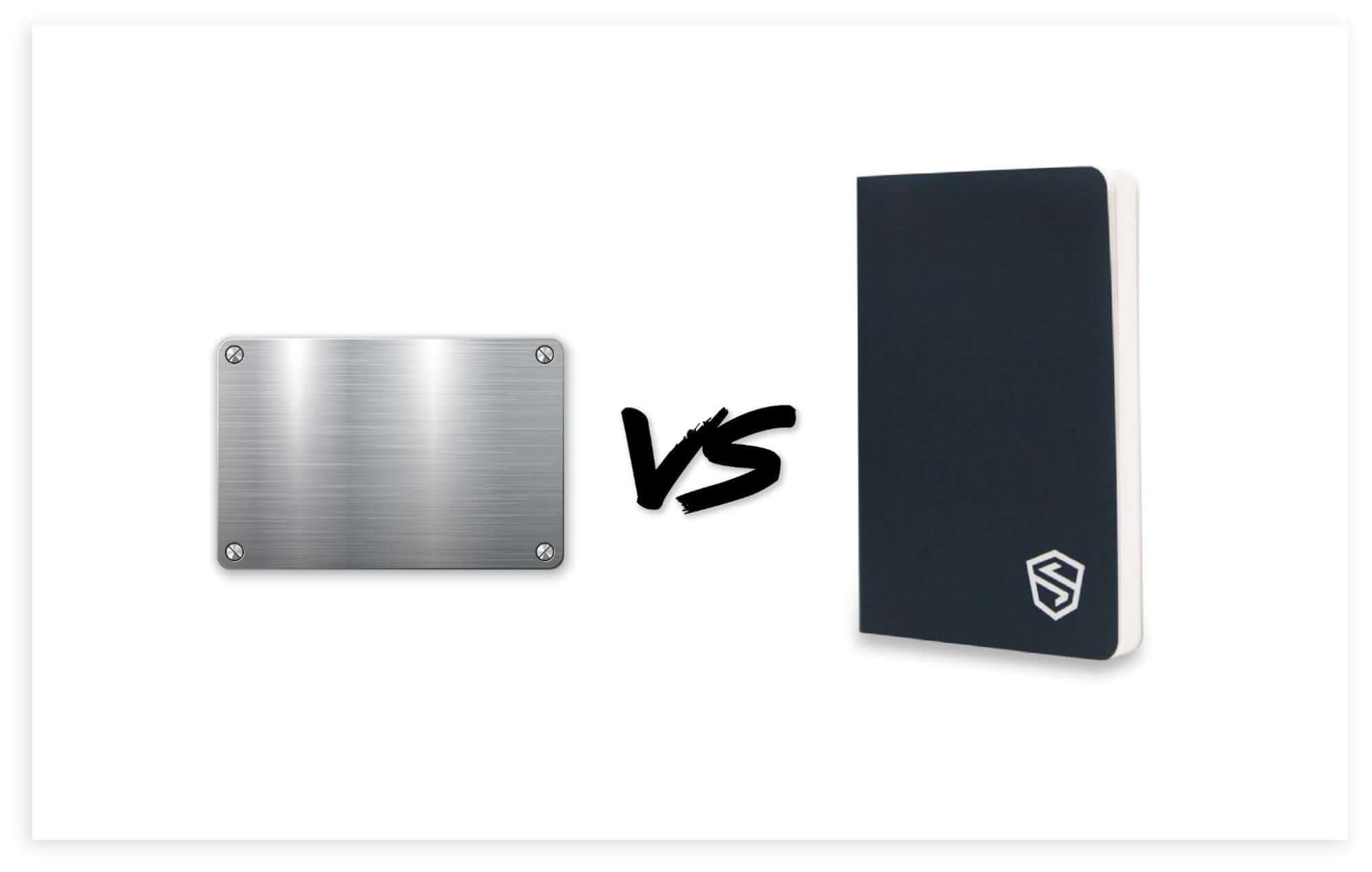 Any crypto user knows security is everything.
Hackers and thieves are always on the hunt to try and steal as much cryptocurrencies like Bitcoin as they can. While many understand the importance of using a cold crypto hardware wallet to store assets, few might grasp the importance of securely storing their seed phrase with a crypto wallet as well.
Many hardware manufacturers ship their devices with paper cards allowing a crypto user to jot down their seed phrase, but paper is easily lost or destroyed, putting a crypto user in a potentially perilous situation.
That's where storage solutions like metal wallets and secure offline notebooks like the Shieldfolio Stonebook come into play.

There is a wide range of metal-based products on the market designed to help with seed phrase storage. Many of these products feature metallic tiles where users manually arrange their seed phrase in an encased wallet. Other metal-based wallets ask users to write down their seed phrase and then permanently stamp it into a metal plate and some of these metal wallets even feature more intricate processes.
Keeping Seed Phrases Safe Remains Absolutely Essential
It is vitally important that crypto users keep their seed phrases and other sensitive crypto-related passwords safe. In May 2021, MetaMask tweeted about a phishing bot attempting to steal seed phrases by asking users to fill out a fake Google Docs support form. The online document asked for a user's secret key.
Earlier in 2022, ESET Research published information about crypto-malware hidden within fake crypto apps allowing hackers to potentially steal seed phrases. ESET said ads for these fake crypto apps were placed on various websites and often had an appearance that resembled popular real apps like Coinbase or Trust Wallet.
As these stories show, keeping seed phrases safe is absolutely essential. While crypto metal wallets remain popular, some users run into potential issues when buying them as the quality of the item dictates its effectiveness.
For example: poorly made metal wallets with small letter plates can be all but ineffective if the letters slide out of place; cheaply made engraving pens or metal stamping tools can result in illegible seed phrases; and overly-complex metal wallets with a lot of moving parts run the risk of breaking.
Metal Wallets Can Be Difficult To Manage: Secure Offline Notebooks Can Be A Better Option
While metal wallets have become immensely popular for security, crypto users need to carefully do their research, understand how these tools are made, and be willing to invest in tools, like an engraver, to optimize security. Some metal wallets also lack versatility and are only able to store certain types of seed phrases, meaning serious crypto investors might have to invest in a range of storage solutions.
Instead of worrying about finding the right metal wallet, crypto users can turn towards a simpler and secure seed phrase storage solution with the ShieldFolio Stonebook. Don't worry about keeping up with crypto paper wallets or fiddling with metal ones, Stonebook users are able to back up their seed phrases, passwords, and other sensitive information on durable water and tear-resistant pages.
Each Stonebook features artisan-grade stone paper and plenty of space to note down seed phrases, usernames, passwords, and other key info. Stonebook users can write with any type of ballpoint pen or even invest in the accompanying Ghost Pen for extra security. The Ghost Pen writes with invisible ink that's only able to be seen with a UV-black light (also built into the pen itself).
Each Stonebook also features the unique Shieldcrypt technology that hides specific key characters of a user's private key. This manual encryption offers another level of security as another person will not be able to decipher the key on their own.
The ShieldFolio Stonebook rests as the globe's most secure notebook for cryptocurrency and is a lot easier to manage than a metal wallet. Visit Shieldfolio.com to check out the Stonebook and the Ghost Pen and learn more about both innovative tools.